Short description
For more than 50 years, the Aluminium Suppliers Directory list published once a year has been valid at
Buyers in the core and key industries, in the wage labor segment, with appraisers and
Examiners as well as at association and chamber level as the leading international reference work
for the aluminum industry.
Thanks to its contemporary format, it meets the legitimate expectations of users who
Quickly and effectively an up-to-date overview of suppliers of raw materials via metallurgical products
up to semi-finished and semi-finished products, light metal trade, finished products, plant and mechanical engineering, aluminum processing and the broad field of services such as advice and expert opinions.
The Aluminium Suppliers Directory, divided into almost 2,000 categories, is used in 3 versions:
Print, over 300 pages
USB stick, can be used individually digitally
Online, www.Alu-Lieferverzeichnis.de
The Aluminium Suppliers Directory: The decisive link for qualified contacts between
Purchase and sales.
Aluminium Suppliers Directory 2023
Distribution: 10.000 (print and digital)
Language: German/English
Publication frequency: Annualy
Book format: 148 mm wide x 210 mm high
Type area: 117 mm wide x 172 mm high
Advertising Deadline: July 1, 2022
Entry deadline: July 1, 2022
Printing material: July 8, 2022
Publishing date: September 16, 2022
Print file: file as EPS-, TIF- or PDF
Printing process: Offset
Media information for download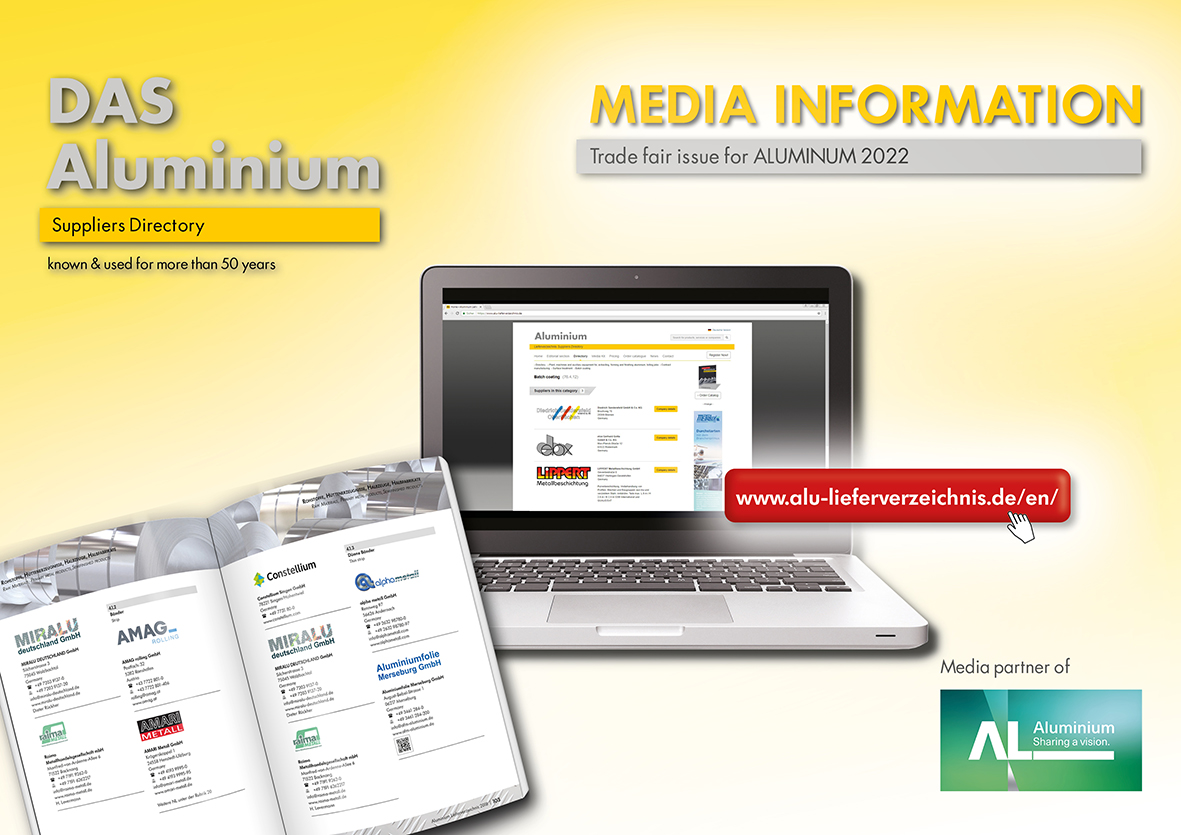 A CURRENT DISTRIBUTION OF THE ISSUE 2022 IS PLANNED ON THE OCCASION OF:

ALUMINIUM - WELTMESSE & KONGRESS, September 27.-29., 2022, Dusseldorf/Germany
Media Kit download
The Aluminium Suppliers Directory's Media Kit is also available for download as a PDF file. Adobe Acrobat Reader or compatible software is required to read the file.